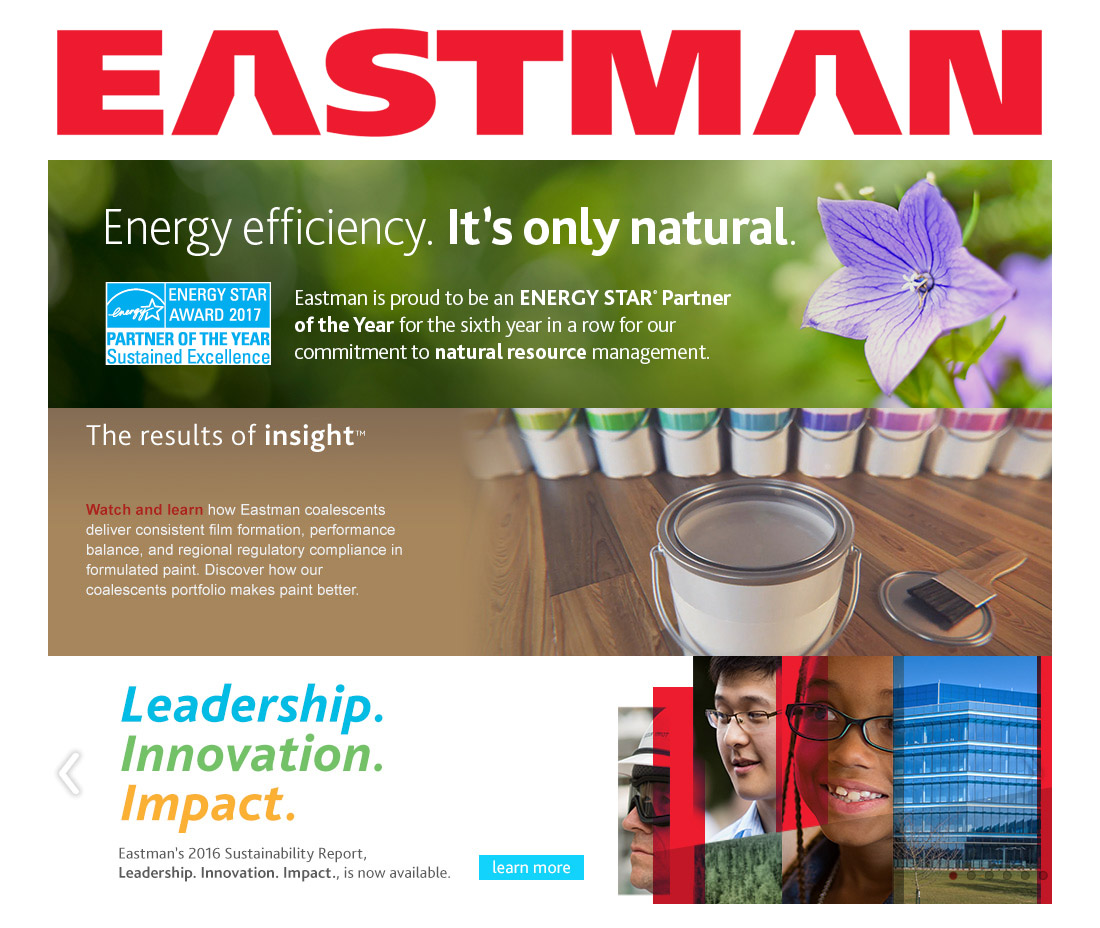 Project Description
Eastman manufactures chemicals, fibers and plastics materials which are used by our customers as key ingredients to make the products that you use every day.
At Eastman, sustainability is about creating value. We believe a truly sustainable company is one that creates significantly more value in the world than the resources it uses.
Eastman has played a major role in many areas of history. This tradition of leadership and innovation has affected our past and will continue to direct our future as a pioneer and leader in an ever changing global market. Our core values of quality, innovation and teamwork provided the framework for our success.
Expanding Products and Capabilities
In the decades that followed, Eastman's portfolio of products continued to expand. By the late 1960's, Tennessee Eastman Company was manufacturing scores of products that were fast becoming familiar features of everyday life. Polyester fibers for apparels and home furnishings, plastics for the automobile industry, and a growing number of industrial chemicals were serving an ever expanding customer base. Our physical presence around the globe grew as well with the emergence of sales offices and the construction of manufacturing facilities in strategic locations.
Eastman is the first manufacturer in the U.S. to develop and commercialize technology that derives chemicals from coal, rather than petroleum. The first coal gasification facility began operation in 1983 in Kingsport, Tenn. and in 1995 was designated a National Historic Chemical Landmark by the American Chemical Society.
Eastman's commitment to quality was recognized when the company received the prestigious Malcolm Baldrige National Quality Award in 1993. The following year, Eastman Chemical Company spun off from Eastman Kodak and became an independent corporation.
The Tradition Continues
The rich history of innovation continued in 2007 with the development of Eastman Tritan™ copolyester. This new generation copolyester offers innovative design and application possibilities along with clarity, toughness, heat and chemical resistance. This is our next step in our commitment to maintain our leadership position through technology and innovation.
Eastman's innovative products continue to make life safer, easier, more convenient and more enjoyable. From its beginning more than 90 years ago, Eastman has grown to be a leader in the global chemical industry. Our cutting edge products enhance the lives of people around the world and still bear the name of the man who started it all, George Eastman.